I never imagined that buying cheese could be that fun.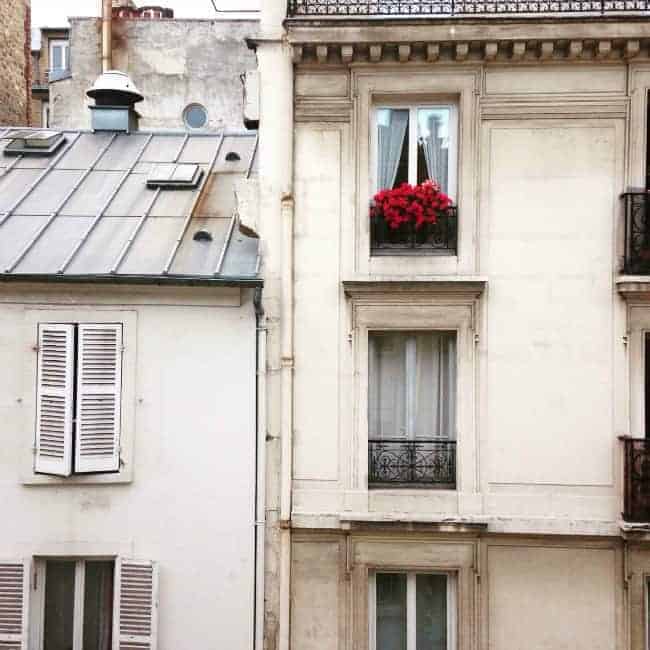 The city of Paris is divided into a spiral of 20 arrondissements, each is it's own municipality complete with a mayor. And each is distinct not just in architecture, but in people and personality. Our apartment is in the 14th and the photo above was taken from our bedroom window.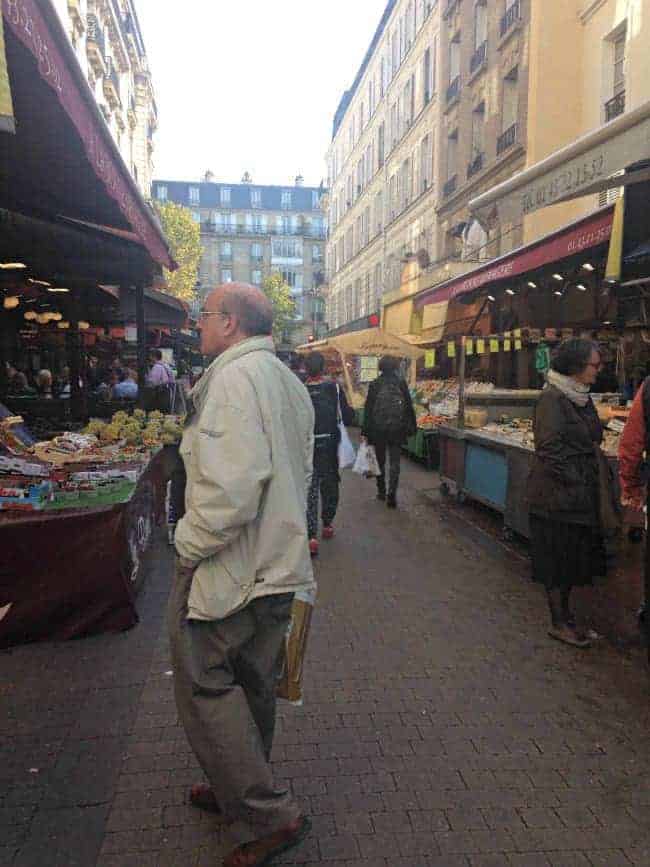 We're staying just off of the Rue Daguerre, around the corner from the Rue Daguerre street market. From cheese shops and bakeries, wine shops and produce stands, to fish markets, flowers and ethnic specialty shops, whatever you're looking for, you'll find it.
(Our living room and kitchen look out over this courtyard)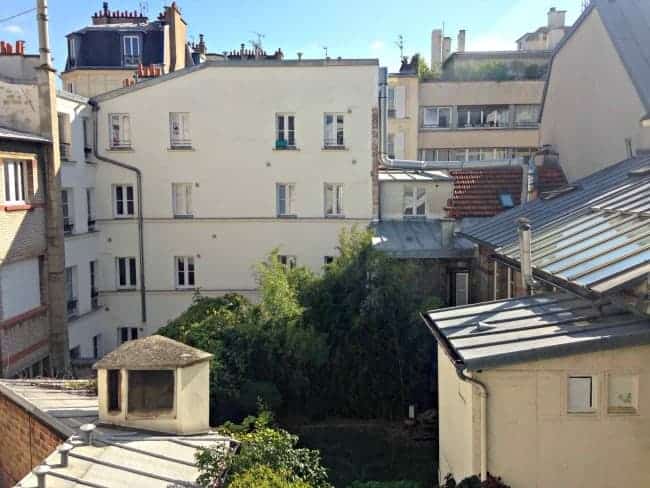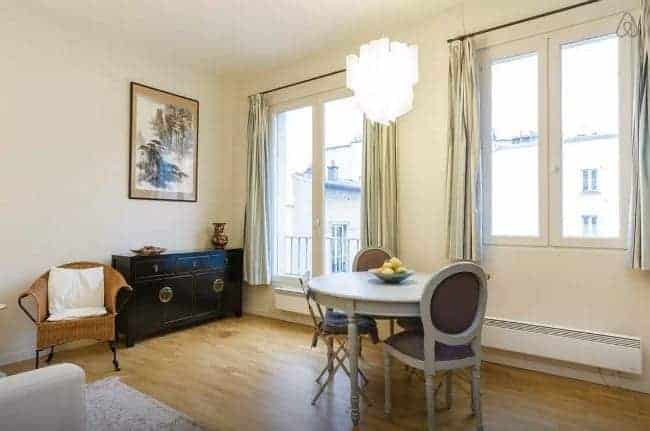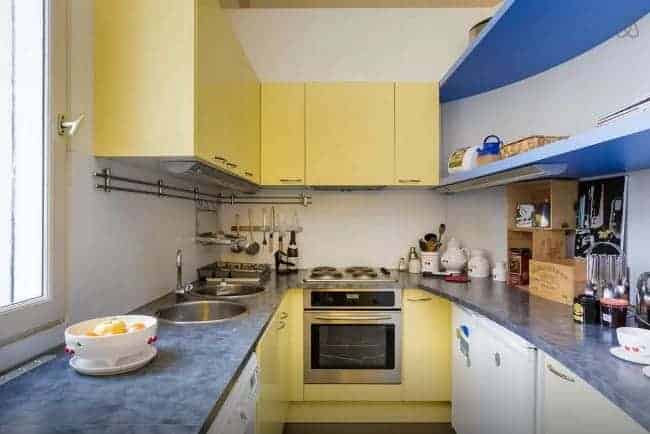 We have a whole list of outdoor and indoor markets to visit all around the city, but our first food buying excursion happened yesterday just a few blocks away at the Mouton-Duvernet Market. We're renting our apartment from a woman named Catherine who lives right above us. She assured us that, yes, the quality of food is good at the daily Rue Daguerre street market, but for the freshest vegetables, fruit and fish, we should visit what the locals call the Town Hall market (it's across the street from the Town Hall) on Tuesdays and Fridays. I'm glad we took her advice.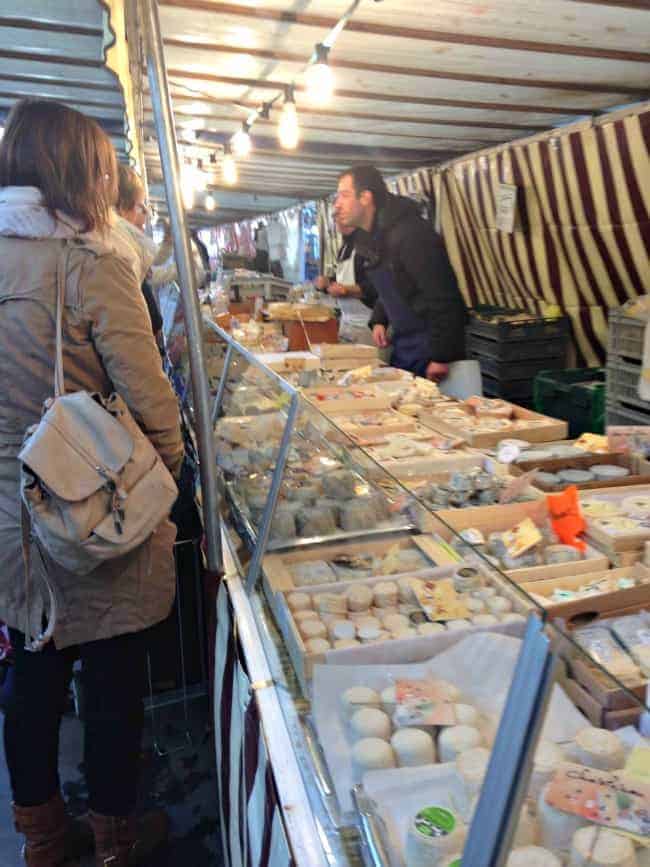 As Emily Dilling advised, we looked for "long lines and dirty vegetables." One of those lines ran along an impressive display of cheese. We know very little French and as we stood in line, wondered how we would achieve our goal of buying a selection of cheeses when we didn't recognize any of them, nor did we know how to ask for assistance in choosing.
The kind-eyed older man ahead of us turned to me and spoke a sentence; I didn't understand a single word. I replied with my best Tarzan impression, "Je ne parle pas Français. Parlez-vous anglais?" ("I don't speak French. Do you speak English?") He shook his head, "Non, non, non." Then he said another sentence I didn't understand. And I said, "What is your favorite cheese?" Then we both laughed realizing that neither of us knew what the other had said.
Commence charades.
I started pointing at cheeses with an inquisitive look. He responded mostly with a nodding head and a thumbs up, except for one where to which he wrinkled his nose, held his throat and made a low choking sound. I held my nose, he nodded, and we both laughed again.
Then it was our turn. "Parlez-vous anglais?" The answer: "Yes." And suddenly we were trying generous samples of a dozen cheeses and buying hunks of them with reckless abandon, five varieties to be exact: Brie, Comté, Gruyère, some kind of creamy, semi-hard sheep's milk cheese and Chèvre (of which there are 300 varieties in France!) At 720 grams or a little more than 25 ounces, a bargain at 15€. When we motioned that we had enough, he insisted that we try one more: creamy and speckled with coriander and walnuts, a cheese so good that it makes you close your eyes and sigh with satisfaction. He cut a large slice from the wheel, "Here, I want you to take this."
We wanted to make French Onion Soup and Baked Eggs in our little kitchen, so we asked if the shop would be there again next Tuesday, the next day of the market. "No," he replied, "but you must come visit us on Sunday, we'll be Villemain Market." And then proceeded to draw us a map on a cheese wrapper.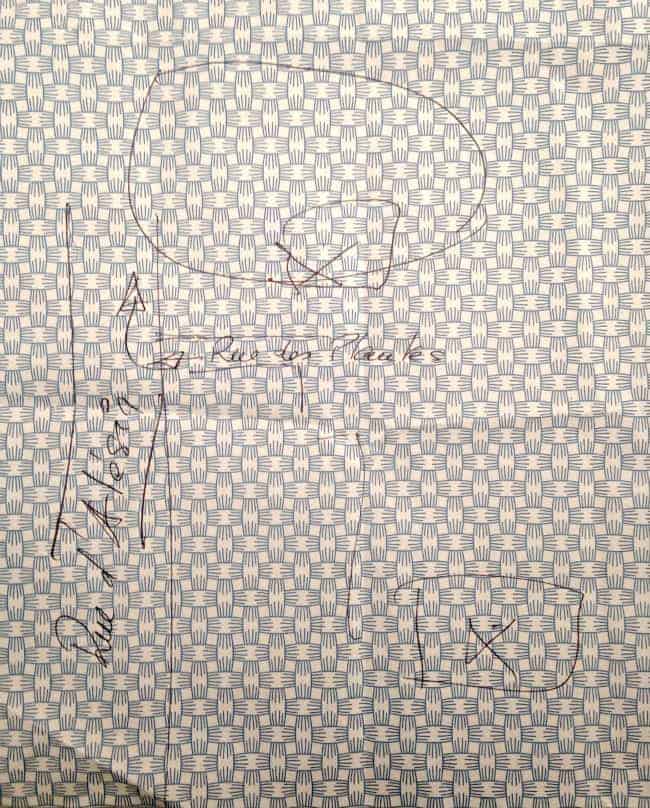 These are just a couple of examples of the warmth and kindness we have felt since we arrived. It is good to be in Paris!