We like to travel by train, but in smaller towns it's better to drive. On this trip, we've driven just over 2,000 kilometers and are so glad for it, because driving adds contour and context. From the car we see how some towns are quite modern, others full of industry, that farmland in the Fall looks almost like desert, that just in the last week, leaves are beginning to change from green to gold and red. This is our last week with a car, and we thought you might enjoy seeing a glimpse of Italy from the road.
Today we're driving about 180 kilometers from Civitella Marittima to Assisi, with a stop in Cortona for lunch. Here's the route: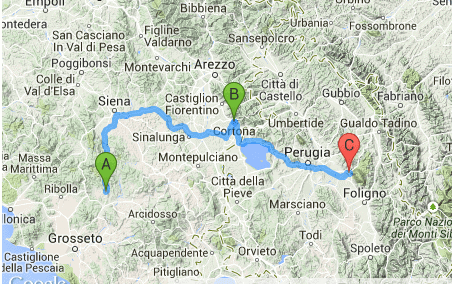 Buckle you seat-belt, here we go.