We rent a car tomorrow and drive to Asti. We've neglected the sights here, distracted by food. On our last day, we plan to amend this.
---
Our alarm sounds at 6am. After quick showers and coffee, we emerge on the street. The traffic is quiet, pedestrians few. We walk along the Via Saragozza to the edge of town, our aim, the Sanctuary of the Madonna of San Luca. It stands at the end of Portico di San Luca, the world's longest, free standing, covered walkway – 666 porticoes, and a bit over 2 miles long.
We arrive and Keith dubs it, "The church of the dripping patrons." No disrespect.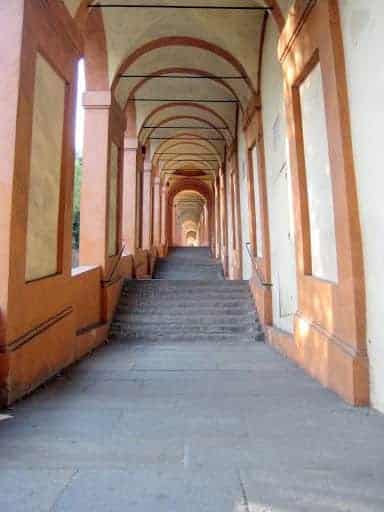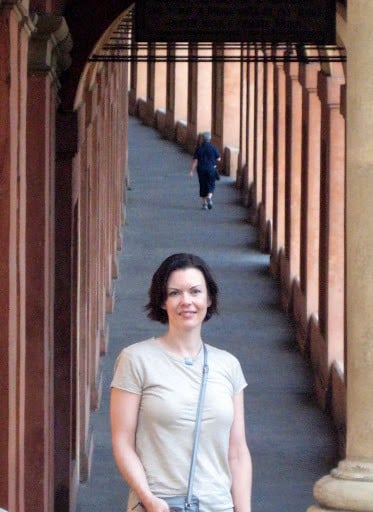 Near noon, we return to the historical center. The city is awake; exhaust and cigarette smoke fill our lungs. We thread, single file, along the bustling, freshly scrubbed sidewalk.  Many walls are splattered with graffiti. We spot an ebb in the roaring tide, of buses, cars, and Vespas and scurry across.
This cities' energy is vibrant; we feel neither frenzy nor threat. As tourists, we are a minority, but somehow, feel more accessory than spectacle.
We pass by Neptune into the Piazza Maggiore and enter a shop. With a few Italian words and a series of mimes, we ask questions that are answered; we leave with two gifts. All week we have honed our charade playing skills.

Out of the shop, we cross the square past armed guards to the steps of San Petronio Basilica. This church is the world's 5th largest, able to accommodate 28,000 people. The floor stretches more that 400 feet long and 200 feet wide. It's arches ascend nearly 150  feet.
Inside the church, we marvel at a fresco, painted by Giovanni da Modena. It depicts a scene from Dante Alighieri's Inferno where a demon in Hell devours Muhammad. In 2002 and 2006, Italian police thwarted terrorist plans to destroy the Basilica.
An elderly man approaches us and begins to speak in Italian. "Non parlo Italiano", we say. He thinks for a moment, points at the painting, then grimaces his face, clenches his fists, and shakes them toward the sky. Again, he grimaces, clenches, and shakes. He lowers his eyes, lightly touches my shoulder and says, "Mi dispiace, mi dispiace." I'm sorry, I'm sorry.
Our last mission, ingredients for Bolognese Sauce; we're cooking at home tonight.
We leave the square to walk the few blocks to our little apartment. A couple strolls just ahead. Perhaps she is tired, he carries her purse.