I don't know how to write this post – today was wonderful and sad. Wonderful because of Carlo and sad because a sweet, small dog was bitten by a snake. The dog, Charlie, is in the veterinary hospital right now and there is a good chance that he will live.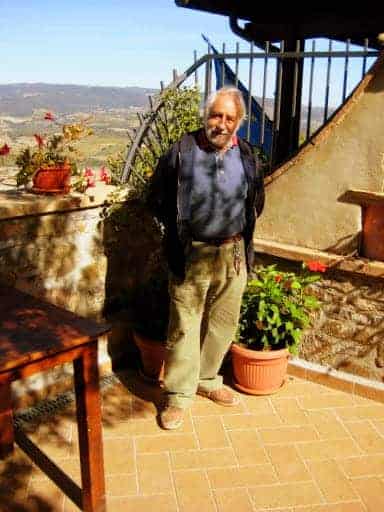 I want to start with the wonderful part and finish with Charlie, I hope you don't mind.
At 9am Carlo picks us up and we zip down the highway toward Montecucco. (You remember Giovanna from yesterday's post – she's Carlo's daughter) We don't know what to expect from the day, all we know is that we want to know more about Tuscan wine and olive oil.
The first vineyard we visit, Vegni & Medaglini, is a small family farm.
Rosina is a third generation wine maker. She describes farming and winemaking with passion. She, her husband, and a handful of helpers, hand harvest grape clusters. On the Sangiovese vines they make three passes, first for table wine, next for 100% Sangiovese, and finally for the Sangiovese Reserve.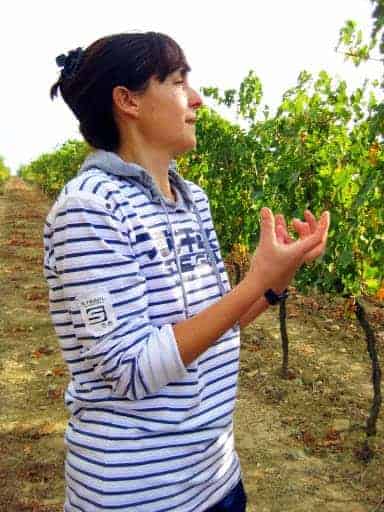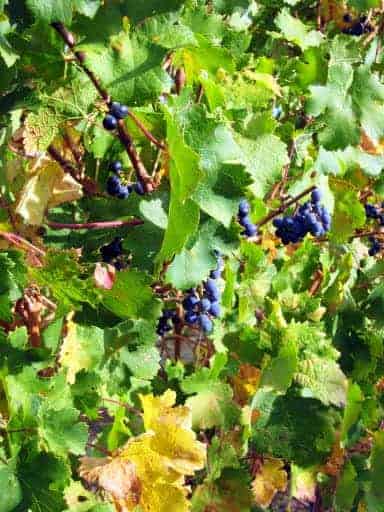 In the vineyard, Rosina describes their work in each month of the year. She shows us where they prune each vine, how they hand train them to be vertical, why they age certain grapes in certain vessels, and for how long. Then we taste the wine! We sip and savor with a new understanding of the work that each swallow represents.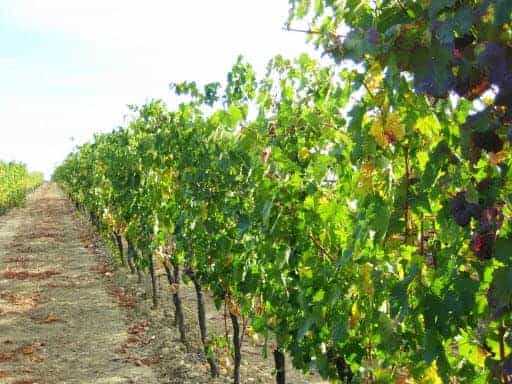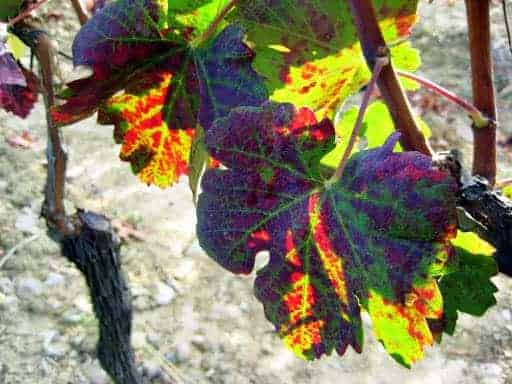 Next we visit the Perazetta Winery. This family winery, too, upholds traditional methods of growing, harvesting, and bottling. Because of Carlo, we meet the owner and enjoy a glass of wine with his daughter, Sara.  We speak of business politics in Italy and the United States. We learn how this family began producing wine just for themselves, then for one restaurant, and though the winery is still small, now they distribute within the United States.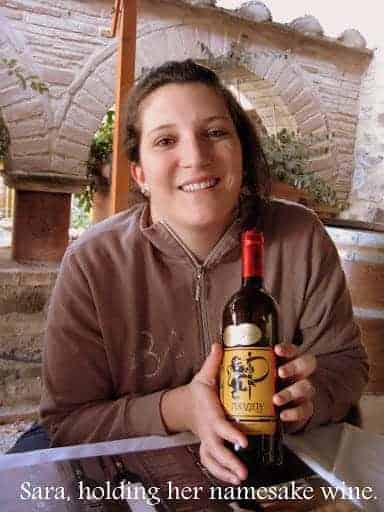 Carlo drives us back along the infamous road – I told you about it yesterday. Along the way, we stop to see 500 year old olive trees.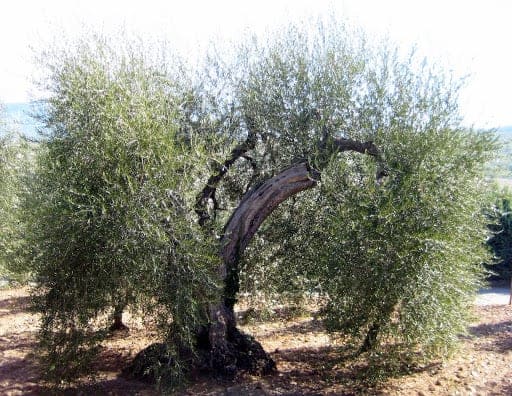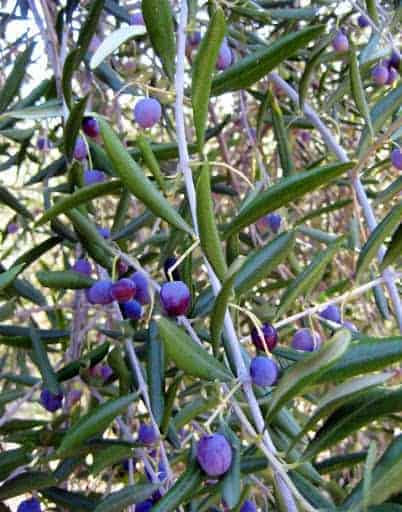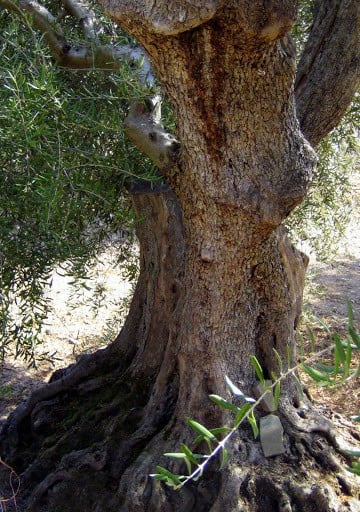 At Carlo's farm, Podere Vignali, we enjoy a hearty lunch that he has prepared for us. After, he shows us the proper way to taste olive oil, how to sense: bitter, sweet, spicy, rancid. Then, in his olive orchard, he describes how the trees are cultivated and pruned, how the olives are harvested and the oil extracted.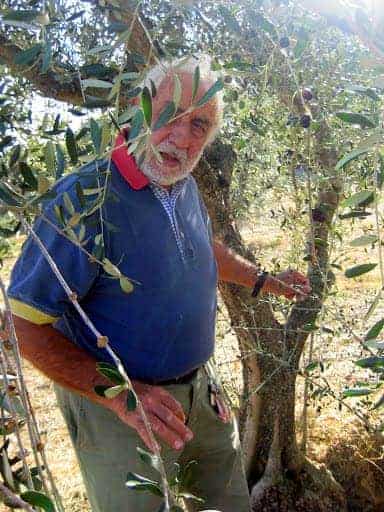 But here is where I have to switch to Charlie.
This dog charmed me right away as Carlo told me how he had arrived the night before. You see Charlie lives in Pari. (I'd planned to tell you about Charlie before the bite. I took these photos of him and this picture of Pari, without zoom, so you could see how far Pari is from Podera Vignali.)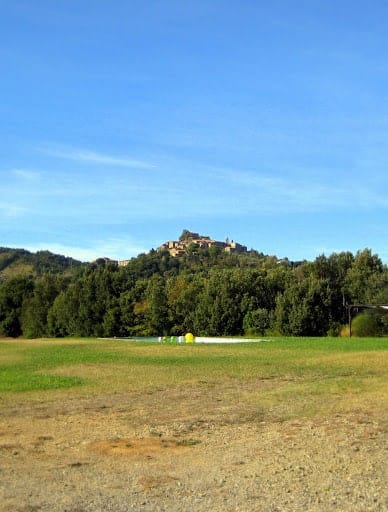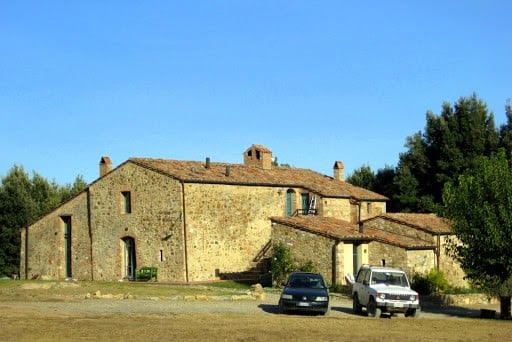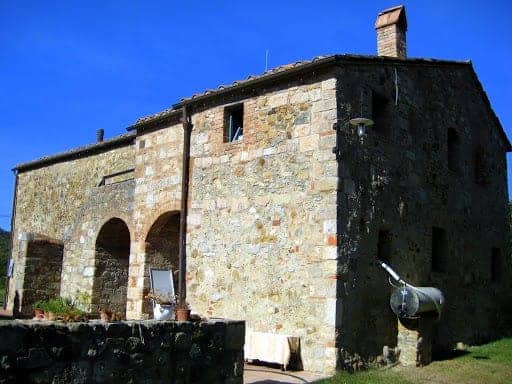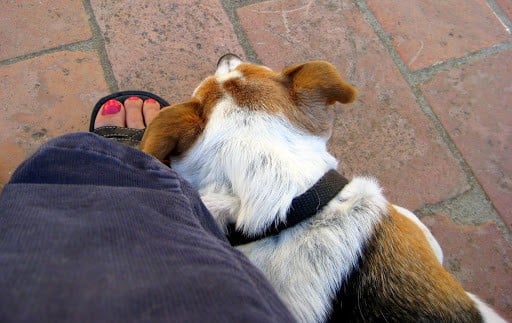 Carlo once took care of Charlie while his owners were out of town. Now Charlie shows up at the farm, stays for 2 or 3 days, then makes his way home. Carlo tells us of driving home after dark one night to find Charlie in the middle of the road, standing on his hind legs wanting a ride. Of course it was granted.
But today, we're standing in the orchard and Carlo is telling us about olive trees. Charlie yelps and jumps back, then growls at what we all imagine is a stinging wasp. But then he begins to walk strangely, his eyes are dilated, and his legs tremble.
Carlo drops the lesson and we race Charlie back to his owner's home in Pari. We plan to take him to the vet in Peganico if the owners aren't home. They're home and are equally alarmed. Carlo calls ahead so the hospital will expect them and the owners speed away.
Carlo drives us back to Casina di Rosa. He parks the car and calls to check on Charlie. The owners tell us that, because of Charlie's quick arrival at the vet, he may survive the bite. We should know in a day or two if he'll be okay.