Learning to navigate the farmer's markets in Paris begins as overwhelm when you don't speak the language, but it's worth the effort even if you never learn how to ask for things beyond the smile and mime.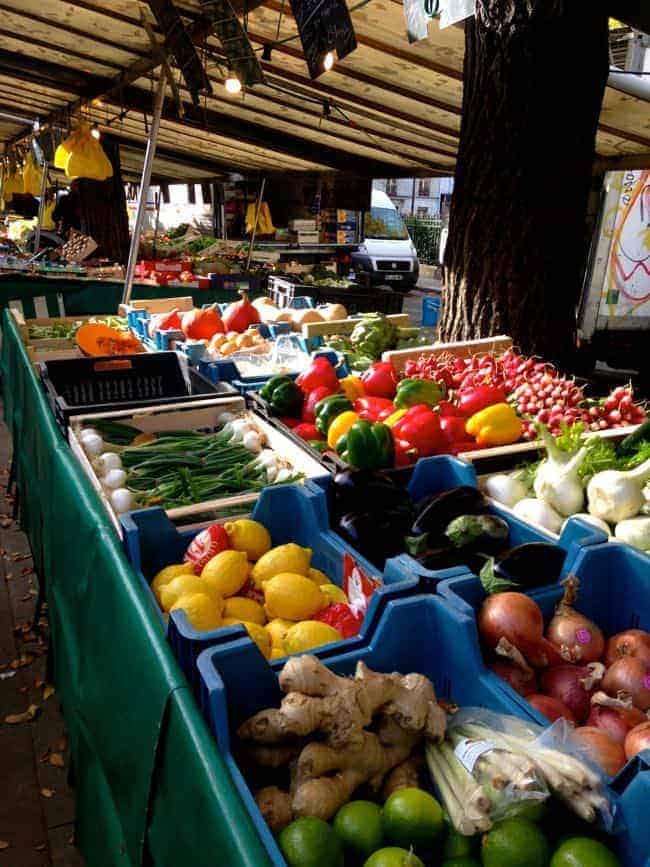 Here's a peek into what it's like.


There are dozens of street markets across the city that pop up throughout the week. The markets are separated into stalls: fruit and vegetables (legumes), cheese (fromage) and sometimes yogurt, meat, fish and seafood, bread and pastries, prepared foods like pasta and pies, and still others that have spices, nuts, dried fruits, honey and conserves. Then there are stalls with clothing, others with leather goods and more.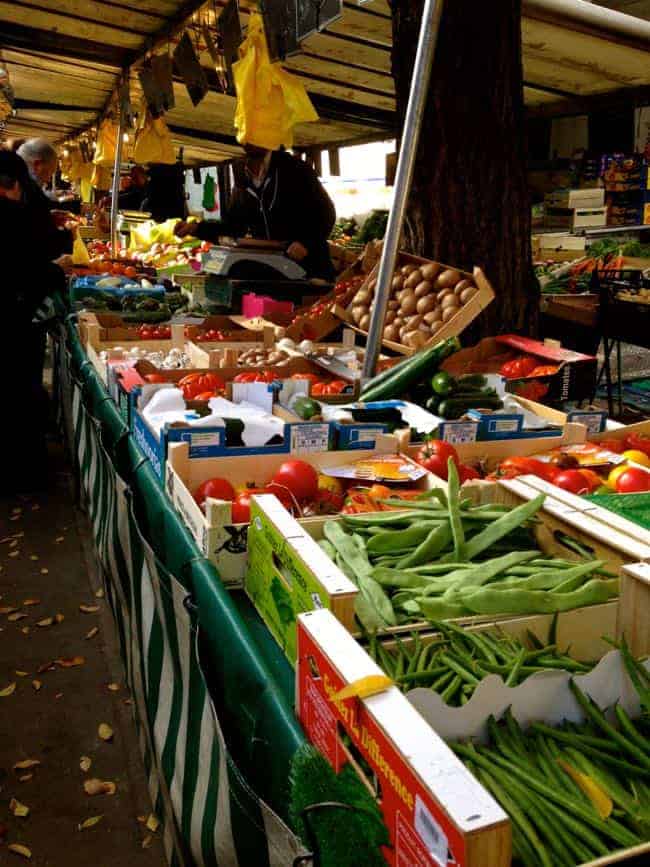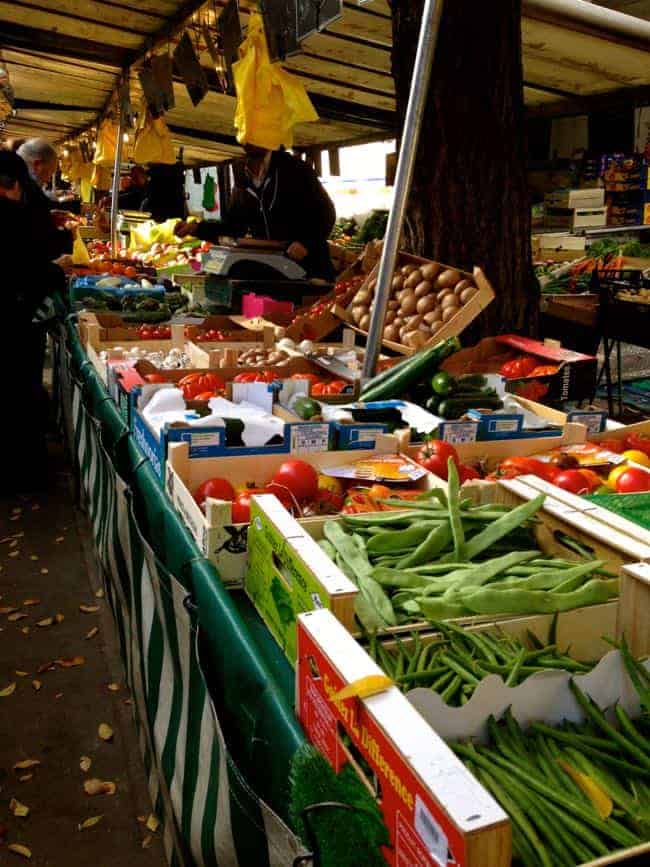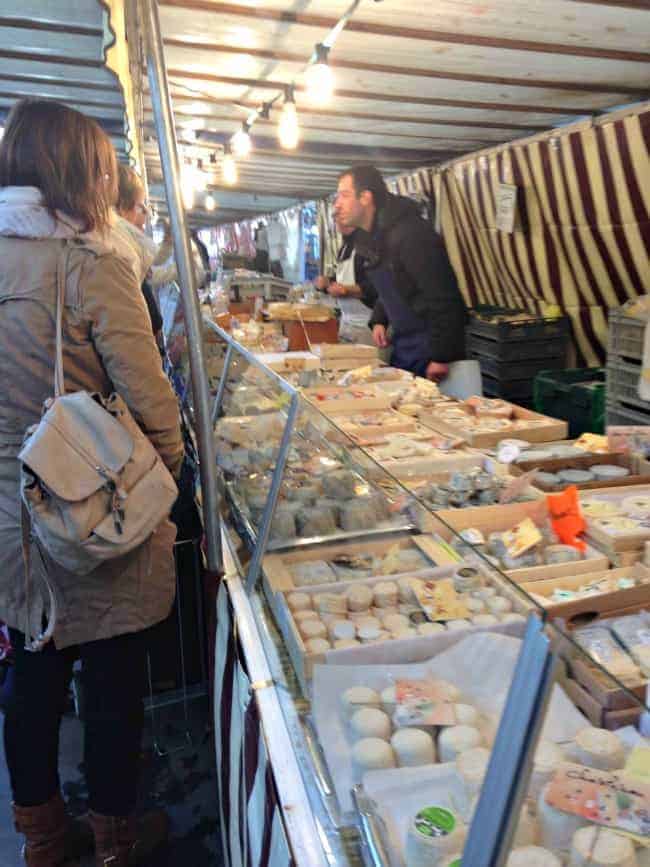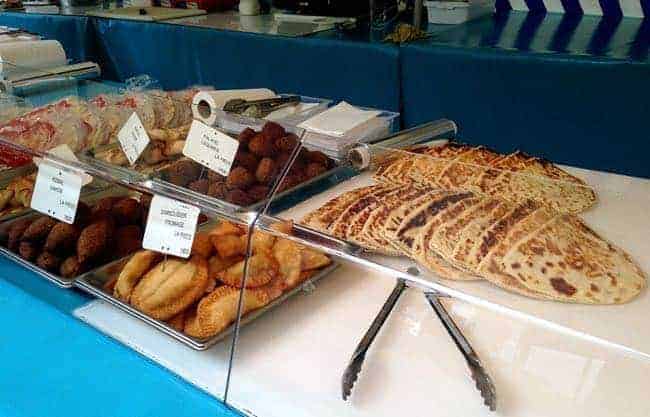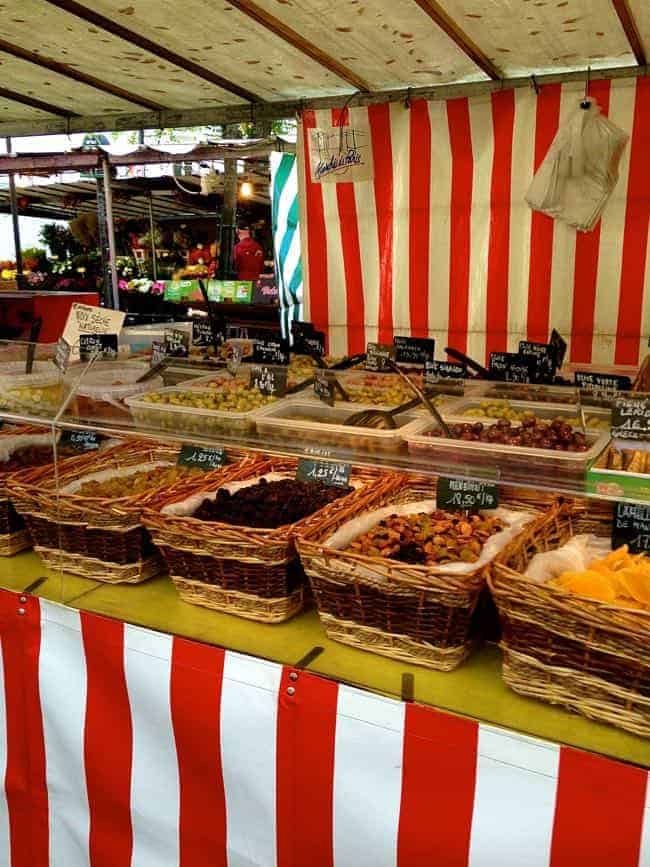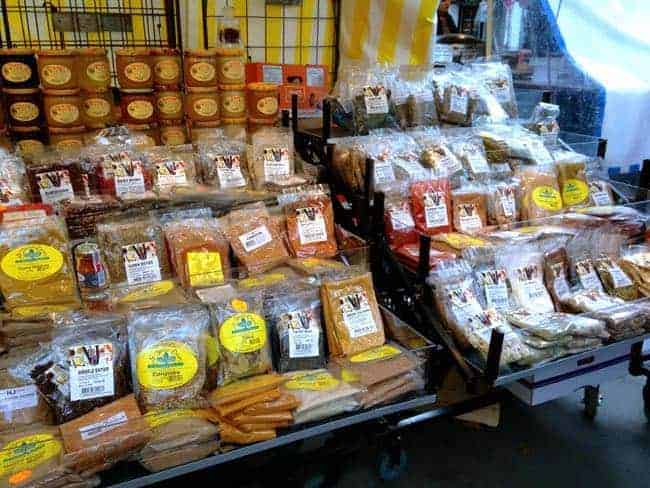 I've found that having a meal or two in mind and a short list makes the street market experience the most fun. I don't recommend trying to shop for a week, as you might in the supermarket. Make a pass of the whole market before you buy anything, smiling and greeting the shop owners with a simple 'bonjour' should your eyes meet, because that's half of the fun of being there. Then on the second pass buy what's on your list, allowing yourself to be easily swayed by a perfectly ripe fennel bulb or crimson carrot that is not on your list but catches your eye.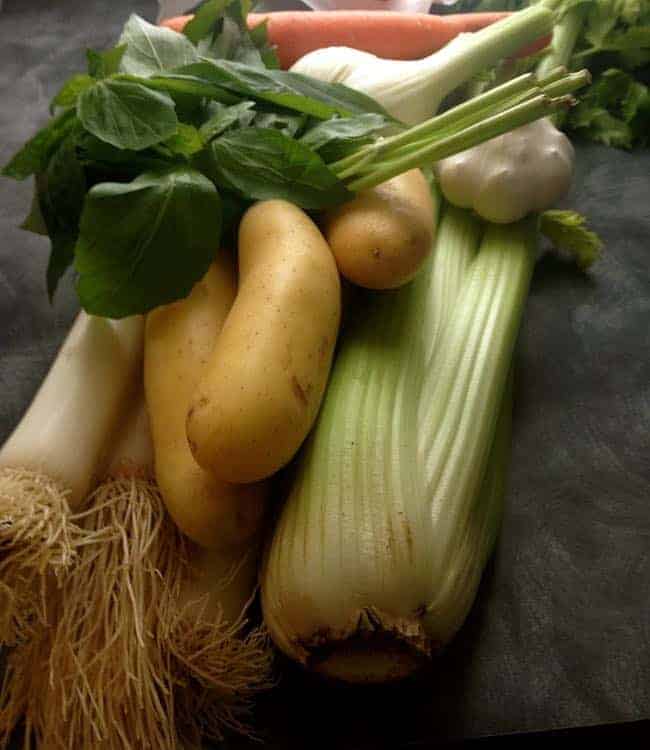 It was a sunny October day when we went shopping for the ingredients for soup.
I want to introduce you to fresh shell beans if you haven't been acquainted. We discovered them in Florence, Italy, served simply with good olive oil and a generous sprinkle of salt – a dish that had us returning to the same restaurant three times in a week and left us pining for them long after.
They are easy to prepare and absolutely creamy and delicious. I like to cook them separately from the soup. That way we can eat some on their own and the rest, along with the cooking liquid, in the soup.
If you're wondering how to make a simple vegetable soup phenomenally delicious, look no further than pistou. It's very similar to Italian pesto, but pistou is of French origin and is made without nuts and, in its most classic form, without cheese.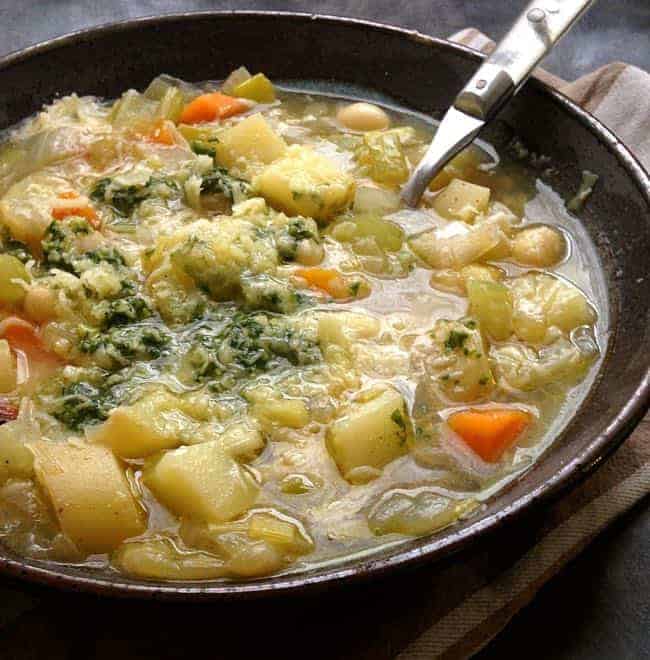 Though fall and winter aren't the seasons for fresh basil, it seems you can always find it. Or, maybe you've been wise (I wish I had been!) and made a huge batch of pesto or pistou from a glut of summer basil and have frozen it in ice cube trays to use during the colder months. For this soup, I found fresh basil at a street market – one of the many markets we've visited during our stay here.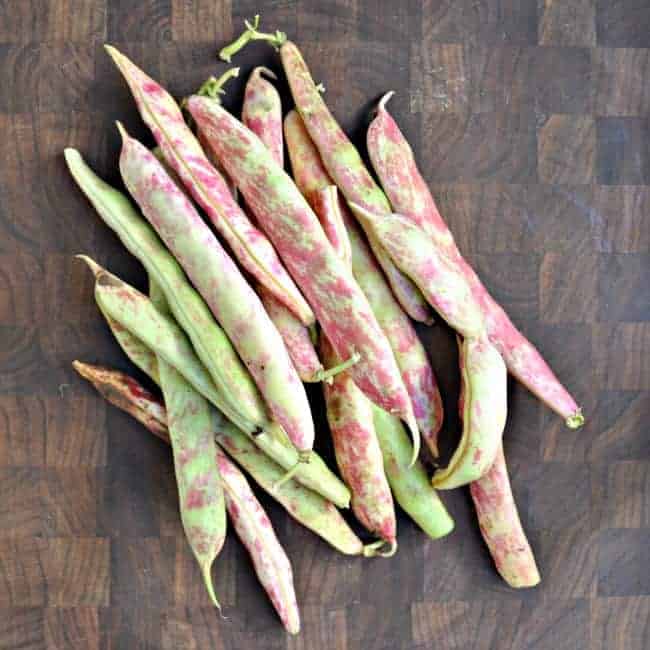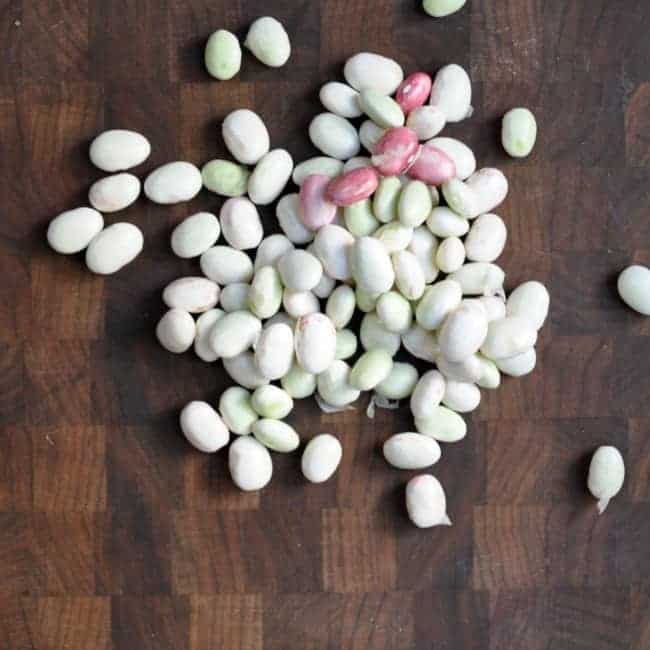 If you can't find fresh shell beans, cook some dried white beans (simple slow cooker recipe for that in this post), or add a can or two of drained cannelini beans. And don't feel tied to this list of ingredients – add whatever is in season in your area and looks the best on the day you shop.
And the soup, I can't wait for you to try it! Whatever season, you'll find that it takes a simple vegetable soup from pleasant to extraordinary. This soup is what we made with items we discovered at the farmers market, but I encourage you to make authentic Soupe au Pistou as they do in France.
Vegetable Soup au Pistou
When you make this soup, don't feel tied to the exact list of vegetables here. Use whatever vegetables are in season.
2 pounds fresh shell beans (shucked, or two cans cannelini beans, drained)
1/4 cup olive oil
1 yellow onion (chopped)
2 large carrots (chopped)
4 ribs celery (chopped)
4 medium leeks (trimmed and chopped)
4 medium yellow potatoes (diced)
10 to 12 cups water (just enough to cover the vegetables (include the cooking water from beans if you like))
2 teaspoons salt (or to taste)
For the Pistou:
1 clove garlic
1/2 teaspoon fine salt
2 oz fresh basil leaves
1/4 cup extra-virgin olive oil
To Finish:
grated Gruyere cheese (sprinkled over each bowl)
extra-virgin olive oil (swirled over each bowl)
Cover shelled beans with enough water just to cover, bring to boil and add a generous pinch of salt. Reduce heat and simmer 25-30 minutes until just tender. Remove from heat.
In a large soup pot heat olive oil, add onions, carrots, and celery; cook and stir for about 3 minutes. Add leeks and potato; cook and stir 3 minutes more.
Add enough water just to cover the vegetables (10-12 cups) and bring to boil. Reduce heat and simmer 10 minutes. Add cooked beans and simmer 10 to 15 minutes more, until potatoes are tender.

To make the pistou: with a food processor running add garlic salt and basil leaves through the chute. Process until minced. Drizzle in olive oil and process just until combined. Transfer pistou to a small bowl. (You can also use a mortar and pestle for this or, in a pinch, just a sharp knife stirring in the olive oil at the end.)

Once soup is done, taste for seasoning. Add salt to taste.
Ladle soup into bowls, topping eacy with a large scoop of pistou, generous sprinkle of grated Gruyere and a drizzle of olive oil.